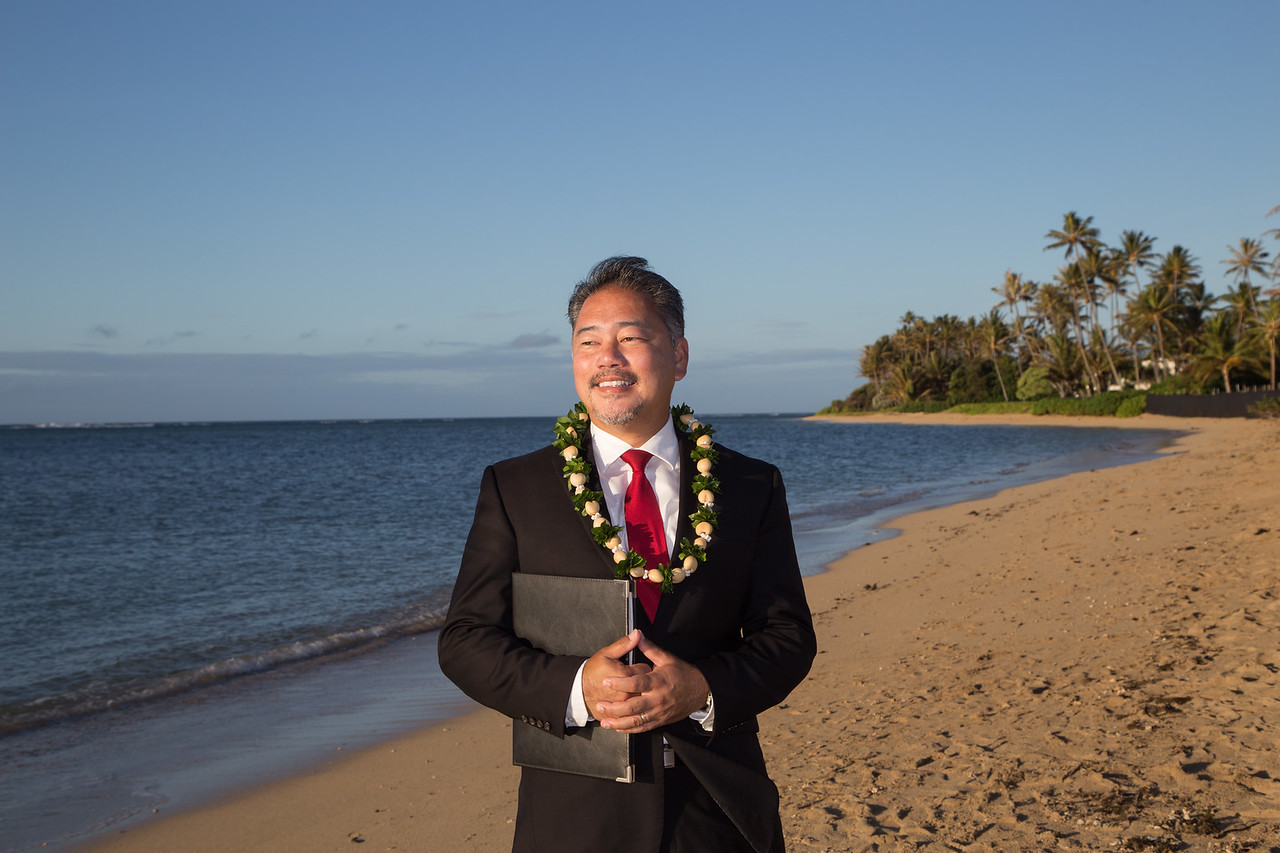 Aloha!
Pastor John Fuchigami, Wedding Officiant with Marry You in Hawaii spoke about how to write your own vows. What better way to make your ceremony absolutely unique then by putting your love to word, into promise.
His first tip is to start early. Donʻt wait until the last minute. Give it at least three weeks, have a discussion with your partner and start to think about three things:
For content, heʻs noticed the most memorable vows usually involve time – past, present and future. About the past, you can talk about things like how you met and how your lives were before you met. Donʻt be afraid to add personal stories. The more specific your stories, the less generic your vows will be.
For example, "we met in high school, we became sweethearts, my love for you has not stopped growing since then and now Iʻm so happy that we are finally getting married." This is good, but this could apply to many couples. Letʻs try again, but add more detail:
"I remember the first time I saw you in science class. You had an amazing smile that could light up a room. When Mr. Brown paired us together as lab partners, I thought Iʻd died and gone to heaven. Over the next few weeks what had started as discussions over chemical compounds turned into long, wonderful conversations about our lives and our dreams. It didnʻt take long before you to become the best friend Iʻd ever known. Then came the fateful day two years after dating, you accidentally spilled food coloring all over my white shirt. You were mortified but I started laughing. And we both laughed until we cried. It was at that moment that I realized how much I loved you. I wanted to spend the rest of my life, all of lifeʻs happy moments with you." Again, more specific makes for less generic.
For the present, you can talk about things like how your personality or stories complement each other. Or, talk about the things you love about each other. Again, be specific, less generic. Brides, instead of saying "I love you because youʻre such a great guy." Try saying something more like this "I watch the way you take care of your mother so faithfully, so I know you will faithfully take care of me. I see the way that you interact with my little brother, the way you relate to him, so I know that you will be a great father to our children, one day. The way you turned down that higher-paid position because it would violate your ethics showed that you are a man of integrity, so I know that you will be true to me. Iʻm so proud of the man that you are and Iʻm so in love with you." More specific, less generic.
This is where the actual vows come into play. The promises, the commitments you will make to each other for all your tomorrows. Even here you can be more specific and have some fun. One cute one was "I promise to watch the Super Bowl with you and to faithfully cheer for the Broncos."
Now that you have a framework, you can start to think about style. Style, would be how you present the content. One groom used a Star Wars theme. Another groom strung together multiple love songs. One bride used visual aids. Have fun, be creative.
Next, youʻre going to want to agree on the approximate length of your vows. Not to the number of words, but approximate. You donʻt want one to be multiple page, single-space typed while the other is hand-written on a few Post-it notes. You want it to be fairly consistent. He has found a good approximate length of well-written vows to be 300 – 500 words in length.
So again, heʻs addressed content, style, and length. Now, write your first draft and let it stew for a bit. What you may have thought sounded great initially may sound cheesy or ordinary. Then, use the remaining time to fine-tune your vows. Craft it until itʻs a masterpiece worthy to present it to the one you love.
Thank you and aloha!
PC: Eugene Kam Photography
Blog youtube video url:
https://youtu.be/qj5t1I0h2LA
Scheduling publish on:
Tuesday, August 18, 2020 - 05:00