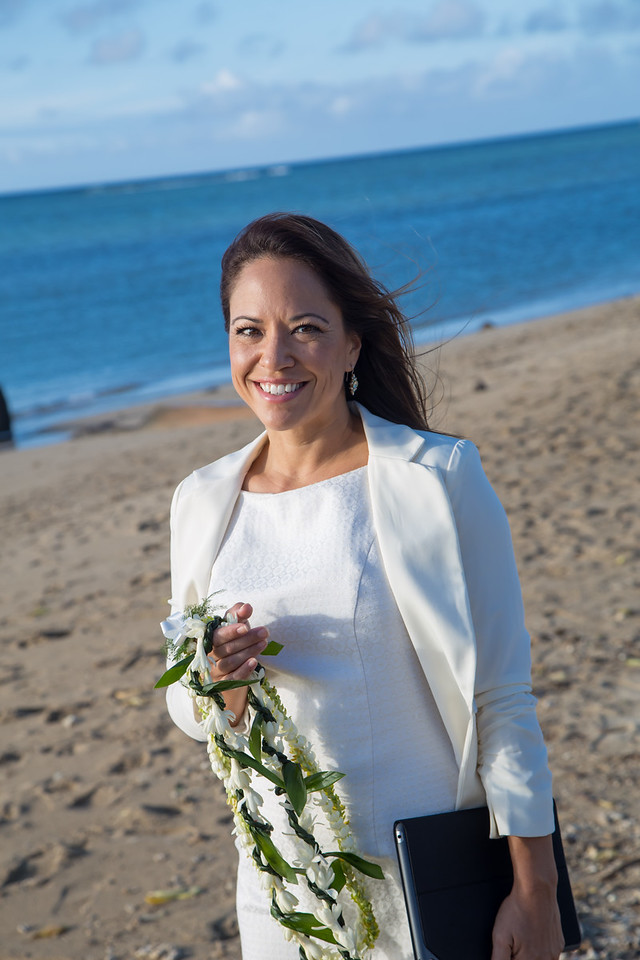 Maila Gibson, one of Marry You in Hawaii's officiants, a Realtor and an award-winning musician gave her thoughts on how to incorporate music into your wedding ceremony. Maila is a musician first, but recalled how she got into officiating, first by a DJ and then I would ask her to do weddings.
As far as music within a ceremony as well as customizing your ceremony, really there are no rules. Maila's style is a bit more casual and it can be as Christian as you want it to be, as fun as non-denominational as you want it to be, she can talk about your dog, or your cat in the ceremony.
She recalled how one bride wanted to walk down to "Man, I Feel Like a Woman" by Shania Twain and another couple's recessional was "Breathless" by The Corrs and danced up the aisle. So there is just a wide-range of selection of songs that people like to select. It can also be kept traditional as well, like Pachelbelʻs "Canon in D" or the "Hawaiian Wedding Song." These days, IZ's "Somewhere Over the Rainbow" has become just as popular as the "Hawaiian Wedding Song" as the couples are coming from abroad, this is the song that they are looking for.
Maila said that the song of the moment is "Canʻt Help Falling in Love," by Elvis, that was already popular, but made a comeback, by the recent hit movie, "Crazy Rich Asians." That version was by Kina Grannis and thereʻs another version thatʻs similar by Haley Reinhart thatʻs in a commercial.
Maila can also play the ukulele and sing during your ceremony and she sang a clip from "Canʻt Help Falling in Love!" Maila mentioned the good thing with live musicians is that everything can be timed perfectlly to start and end just when you need it. The last thing you want is to be standing at the altar, wating for a song to end.
One piece of advise is that you do not have to have multiple songs for the ceremony. You can have one for the bridal party entrance as an instrumental version and then when the bride walks in, the vocals can come in.
You can have music playing during different parts of your ceremony. For example during your lei exchange, which is a nice option over a sand ceremony for bringing two families together. As an example, the bride would give lei to their in-laws and the groom would give lei to his in-laws. This is a nice way to say thank you, mahalo for welcoming me into the family. This would be a nice time to incorporate music.
What type of music do you have planned for your ceremony?
Blog youtube video url:
https://youtu.be/ukgJE7FPlpY