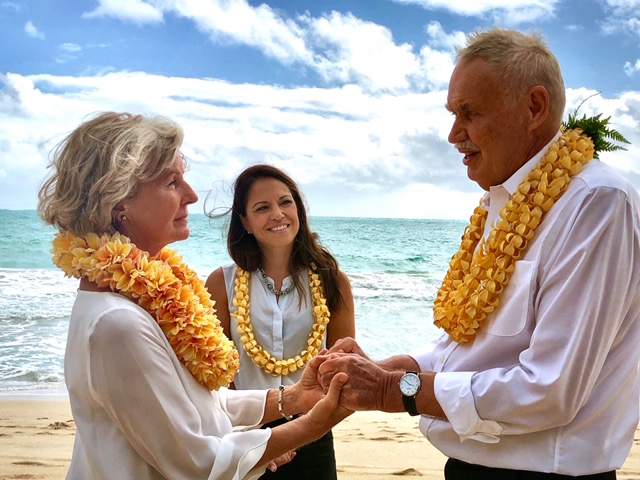 This was a recap from an IG live back in May with wedding officiant Maila Gibson about incorporating Hawaiian elements into a modern ceremony.
As a dog lover, Maila mentioned that so many people have animals where she would incorporate them into her ceremonies, mentioning them and recognizing how important it is to love each other the way we love our pets or how they love us. To give that same sort of enthusiasm to our significant others that we give to our pets.
Maila, wedding officiant for Marry You in Hawaii discussed Hawaiian touches in a modern ceremony. Many people think that getting married in Hawaii means a full-on cultural wedding ceremony, and that is wonderful, and we have great officiants for that and very capable. But for those who are looking for a casual type of ceremony, one that is still unique to Hawaii, that is one that she is perfect for. If you are looking for something that is very Hawaiian type of ceremony, then possibly Kahu Brutus or Kelehua would be the officiant for you. For those that are looking for a "mellow, casual, light-hearted with Hawaiian elements" then Maila is the officiant for you.
Maila explained that one of her favorite things is to incorporate a sense of place. As an example, she had a couple that got married on the beach in Kailua, one of the most gorgeous beaches in the world. She took a closer look at it in the Hawaiian language and "Kai" means water and there are two types – "vai" is fresh water and "kai" is salt water and "lua" meaning "two." Then it was "what is the significance of that?" there are two channels in Kailua, and also two significant landmarks in Kailua, the Mokulua islands, which there are two of. "Moku" for "island" and "lua" for "two" so what a perfect way to incorporate way to weave this into a wedding made for two people. She will talk about Kailua and the beauty of this in the ceremony.
Another thing that she loves to do is that for those couples that would want a Hawaiian prayer, she can sing the Hawaiian doxology. The doxology is pretty significant in the Christian faith and the Bible and the translation is "praise God from whom all blessings flow" so it's a real general way of saying thank you. In Hawaii, it's Ho'onani, that brings that Hawaiian element to the ceremony as well as brining a spiritual or religious element.
(she sang it here)
Another element would be a lei exchange that can be a casual, simple, non-intimidating, but a warm-fuzzy element that can be added and can be done between anyone. This can be done with blended families are coming together. The groom can give this to the bride's children, the bride can give this to the groom's children. In a case where there are no children, families can do this for their in-laws.
Those are three elements that are "Hawaiian" but keep your ceremony modern at the same time. Also, Maila is always open to exploring different ideas and to come up with new ones. She loves to get to know couples and understand what is important and if she is able to "Hawaiianize" it, then she absolutely will.
Blog youtube video url:
https://youtu.be/GzqiiSED5hw
Scheduling publish on:
Tuesday, July 28, 2020 - 08:00