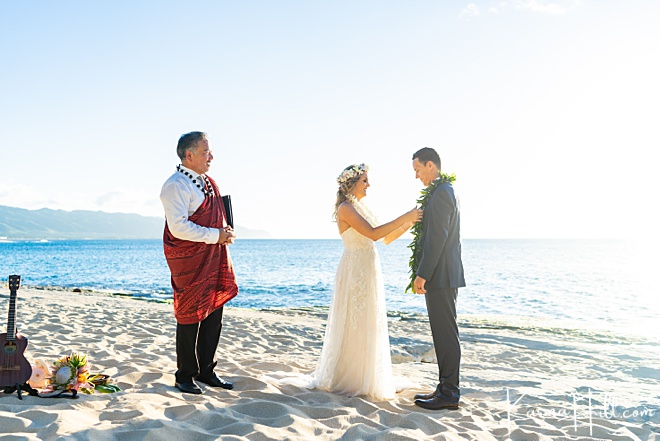 Aloha!
Marry You in Hawaii wedding officiant Pastor John Fuchigami speaks about how to customize your wedding ceremony. There are many ways to do this – you can pick your colors, your flowers, your venue, your theme, etc. but to go futher, here are three categories:
You can include your friends or family members like having them read a Bible verse, or a poem that has a special meaning. How about a friend who is musically inclined that can perform a song? How about a family member who is a member of the clergy that can offer a special prayer in the ceremony? Don't forget your fur babies. He has seen couples with their pets walking down the aisle or possibly even ring pillows tied to their backs. Remember, if you do this, please have the rings secured up front, possibly with the Best Man.
Speaking of rings, one couple passed them among all guests for a blessing. You can honor or show gratitude to special members of your family by presenting lei to them. You can also present special tokens of love whether it's a necklace, pendant or a wristwatch. You can also prepare heartfelt words to children, or even further to exchange vows with your children during the ceremony. Maybe even on the solemn side, you can honor those who have passed on. In Hawaii, a common tradition is to have an empty seat in the front for those who have passed with a photo on the chair, and during the ceremony, a flower or lei can be placed as an act of love, gratitude, and remembrance. Those are some simple ways to include family and friends.
Now "tweak." There are numerous elements already a part of the ceremony, why not tweak those to make them your own? For example, the bridal party walking in and out – why not have some fun with it? Grooms, maybe have your groomsmen have a special handshake when they walk up, or when your bridal party walks out, have them come up with a fun dance to do. As an officiant, he will be talking about love and marriage, how about you make it your own? Why not give him some details like how did you meet, how did you fall in love? Tell him the fun, beautiful ways your personalities compliment each other and he can work these elements into your ceremony. Pastor John's favorite way to customize your ceremony is for you to write your own vows. You will be exchanging vows anyway, why not make them your own by writing your own. He has actually done a complete video just on writing your vows, so please check that out!
You have include, tweak, now let's talk about adding. If you're religious, you can add things like the unity cross or communion. For the Filipino Catholics, you can add things like veil, cord, the coin, the Bible ceremonies. Or how about other traditions? The unity candle, sand ceremony, wine box, letter ceremony, knot tying, rose ceremony, handfasting, broom jumping, and glass breaking, you get the idea. There are a ton of ways to add elements to your ceremony to make it meaningful to you and your guests. Speaking of adding, you can also add the element of surprise. Pastor John once had a groom that recently surprised the bride, right after the kiss that the house that they were looking at, and wanted, was now their own, the purchase had gone through. Other grooms have surprised their brides with unexpected guests right before the ceremony who weren't expected to be there. Another popular way that grooms surprise their brides is in the ring exchange is that they surprise their brides with a better-than-expected ring. Beautiful!
So adding the element of surprise is another way to make your wedding even more spectacular. Now, if you're coming here to Hawaii, you'll want to add Hawaiian elements. Pastor John has devoted another video to this topic as well.
To recap, you have three unique ways to make your ceremony your own: include (your family and friends), tweak (the existing elements) and add (any number of exciting options). Don't limit yourself to these options, because the sky's the limit when it comes to personalizing your wedding ceremony. So have fun making it your own, and have fun making it a day to remember.
Thank you and aloha!
PC: Karma Hill Photography
Blog youtube video url:
https://youtu.be/K7TtPWbSMDc
Scheduling publish on:
Tuesday, September 8, 2020 - 05:00