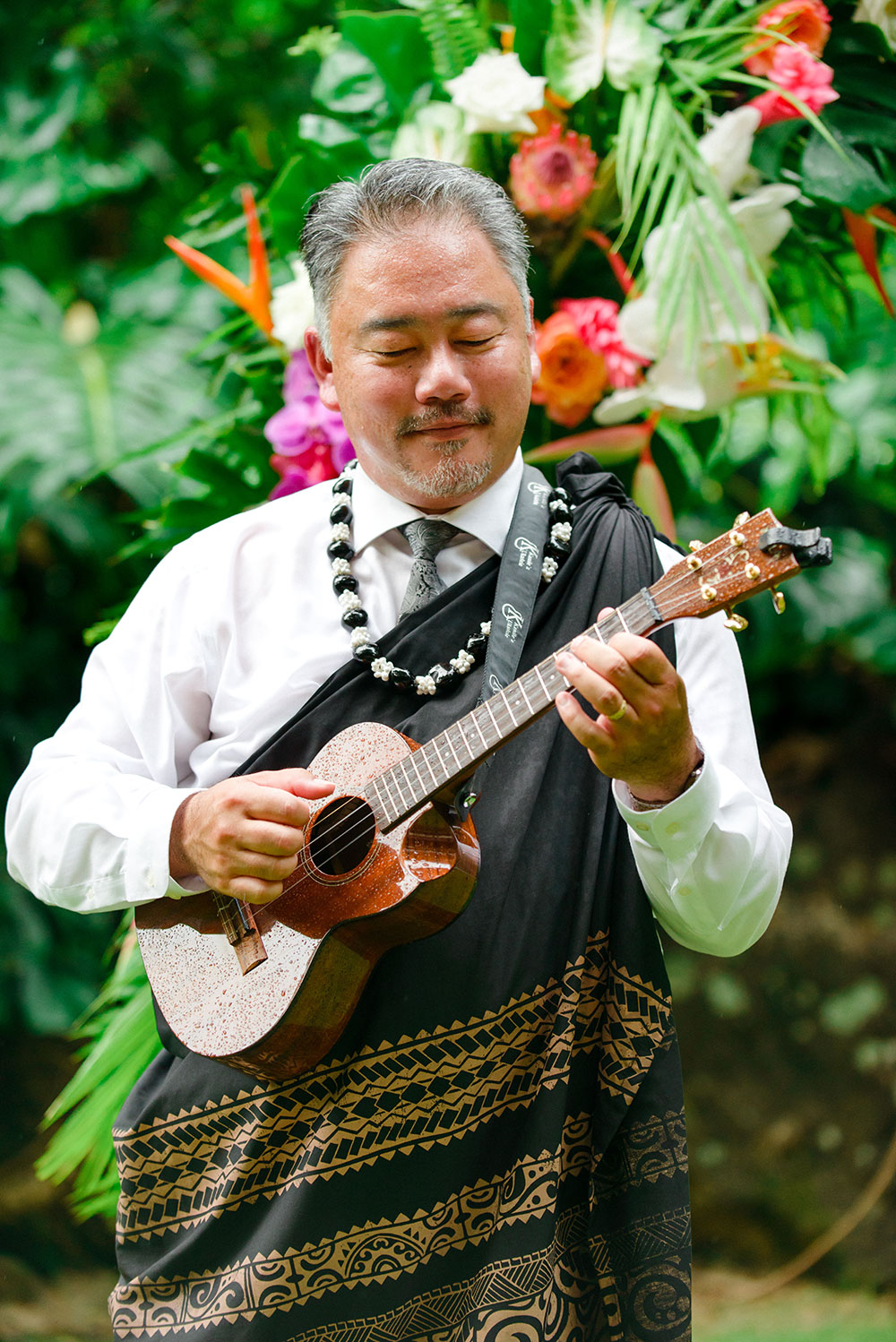 Aloha!
Pastor John Fuchigami, Wedding Officiant with Marry You in Hawaii spoke about adding ukulele music to your wedding. Pastor John started out by recommended that if you are looking for music for your ceremony that you look into first hiring separate musicians for your ceremony as regularly gigging musicians
usually have a full repertoire of music to select from
from the time the arrive and until they leave can create and maintain an ambiance of music (which he cannot do)
If you do not have the resources, or prefer to go small and intimate, or like a novelty of a singing officiant, then he would be honored to do this!
There are four basic areas where he would recommend songs to be placed in your ceremony and at time of this video (June 2020) had about 60 wedding appropriate songs in his repertoire, but does take requests, with enough time to learn them.
Processional or Opening Song
Bridal Entrance
Middle Song
Recessional
Pastor John gave some suggestions based on popularity and some of his own favorites.
First, is the processional or where the bridal party walks in. His favorite is "A River Runs Through It." If you don't have a wedding party and you just want an opening song, a popular song is "The Hawaiian Wedding Song," made popular by Elvis in Blue Hawaii.
Next, is the bridal entrance, for this can be classic, like Pachelbel's Canon in D or Marry You by Bruno Mars, I'm Yours by Jason Mraz. There's always "Here Come's the Bride" or "The Bridal March."
Next is the "middle song" and you don't have to have this, but it's like a music oasis and when you can focus on each other and really be in the moment. His favorite song for this is "Can't Help Falling in Love."
For the recessional, you will want a happy, song like
"Somewhere Over the Rainbow," the Brother Iz version
"Better Together" by Jack Johnson
"Thinking Out Loud" by Ed Sheeran
Or one of Pastor John's favorites, "Everything" by Michael Bublé.
Those are some of the ways you can add ukulele music to your wedding. Aloha!
PC: Stephen Ludwig Photography
Blog youtube video url:
https://youtu.be/4W9xOm05YRo
Scheduling publish on:
Wednesday, July 1, 2020 - 08:00